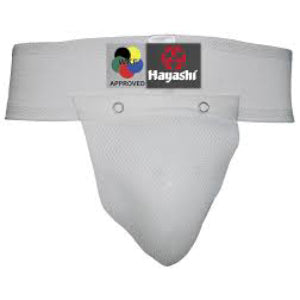 This is a white WKF approved Groin protector from Hayashi complete with replaceable pantal cup made of hard plastic.
It offers excellent wearing comfort with a wide elastic band. It has been designed not to inhibit movement or kicks whilst sparring in a club or competing.
The groin guard is complete with a breathable mesh cover.
Available in Children, Juniors and Adults sizes
This product is World Karate Federation Approved
Groin guards are a mandatory protective equipment requirement at all Kumite competitions, fighting to WKF rules within Australia and for International events
Life is too short to live without the Karate Groin Guard (WKF Approved) from Hayashi. Be happy. Be Content. Be Satisfied.

Inventory Last Updated: Oct 05, 2023