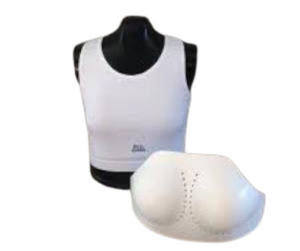 Tokaido Maxiguard Lycra Top/Bra and Chest Insert
Number 1 in WKF Karate worldwide! Protects your chest in sport.
Lightweight for comfort - Flexible for best fit - Strong for safety - Cool 'n' dry cover made with moisture-wicking -TactelLightweight plastic insert fits into a specially designed pocket within a bra
The original and most trusted chest guard on the market.
Certified for use as a chest protector
Endorsed by FIE, WKF, EKF AIBA and other sporting federations
Reduce risks in your chosen sport
We developed MaxiGuard for girls and women who love to compete. A hit to the breasts hurts! MaxiGuard protects your full chest area. Breasts, ribs, sternum are all covered with the flexible, yet strong (virtually unbreakable) polyethylene guard. The guard is held firmly in place by inserting into a pocket in the specially designed bra/cover made of high tech, two-way stretch Tactel.
This fabric allows for the transfer of moisture, to speed evaporation, which is the body's natural cooling method. Lycra Top and Insert to be purchased separately.
*SIZES CAN BE CONFUSING, PLEASE SEE SIZE CHART FOR YOUR CORRECT SIZE*
Sizes Available -
Chest Inserts: 10A - 10B - 11A - 11B - 12A - 12B - 12C  - 14B - 14C
Lycra Top: S - M - L
The Tokaido- WKF APPROVED MAXIGUARD LYCRA TOP/BRA AND CHEST GUARD is far and away, one of our most popular items. People can't seem to get enough of it.

Inventory Last Updated: Dec 10, 2023